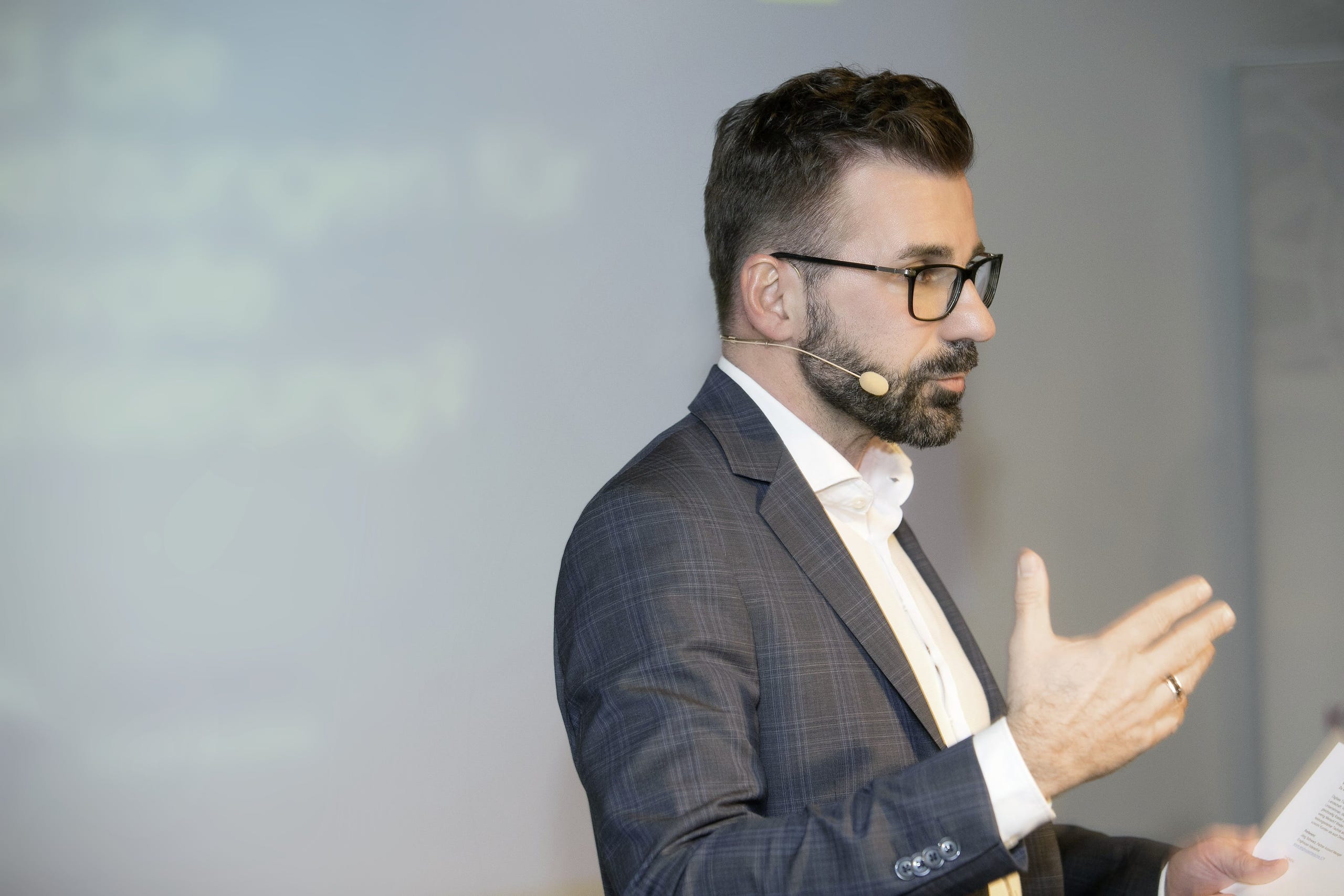 READ ME
Welcome to CXdigital2018. CXdigital2018 is the largest community event for all customer service decision makers. We present digital live cases of leading companies in the industry. Visit our selected exhibitors and watch live, which technology will push your digital service agenda. INSPIRE your customer experience!
Georg Mack, President, callcenterforum.at
How to Pecha Kucha
new breeze in presentation techniques is Pecha Kucha ...
* Pecha Kucha (meaning "chit-chat"), also: Petscha-Kutscha, is a presentation style in which 20 slides are shown for 20 seconds each. The total time of 6:40 minutes is thus also the maximum speaking time. The format keeps presentations concise and fast-paced. (Source: WIKIPEDIAH wo)
Get together
with snacks and drinks,
visit the exhibitors | live demos
OPENING WORDS
Erwin-Paul Bouma
Head of CISCO Sales EMEAR
Customer Digital Eperience | Digitalization
KEY NOTE
booking.com
powered by CISCO

Booking.com has grown from a small Dutch start-up to one of the world's largest travel e-commerce companies since it was founded in 1996 in Amsterdam. "We give everything to help you discover the world" - in order to fulfill this mission, Booking.com invests in DIGITAL TECHNOLOGIES that make travel a smooth experience. Every day more than 1,550,000 overnight stays are booked on the platform. In this article you will learn how DIGITIZATION is helping your company to grow.

Speaker: Filipe Bohrer, Product Owner
www.booking.com
EXHIBITION
Visit the exhibitors | live demos
ROBOTIC PROCESS AUTOMATION (RPA) IN CUSTOMER SERVICE: This is how RPA works in practice. Real cases to increase efficiency and effectiveness in customer service organizations.

Speaker: requested.
PIDAS - www.pidas.com
SINCE WHEN DOES THE BONE COME TO THE DOG?
– Knowledge Management of the Next Generation


The knowledge, that is located and searched in separate applications, is old school. Next-generation knowledge management brings context-based knowledge to the place where it's needed. Efficiency rethought!

Speaker: Hendrik Buske, Head of Sales & Marketing, SABIO GmbH
SABIO GmbH - www.sabio.de
INTELLIGENT ANSWERS
Sematell solutions precisely analyze written requests and always provide the right individual answer. With our response management technology you maximize your company's efficiency and your customers' satisfaction. What makes us special? We can read 3,000 words per second - in more than 70 languages.

Speaker : Tanja Straub, Senior Consultant, Sematell GmbH
SEMATELL - www.sematell.com
EXHIBITION
Visit the exhibitors | live demos
HOW TO BE A CUSTOMER HERO
Increase your NPS and leverage the insights with ZOOM solution

Speaker: Liam Anderson, WFO Consultant, EMEA
ZOOM - www.zoomint.com
EXPERIENCE REPORT

Speaker: Hermine Ott-KishoreHermine Ott-Kishore Quality management & Carina Huber, Customer Service Steering

Austrian Airlines - www.austrian.com
EXHIBITION
Visit the exhibitors | live demos
UC Communication 2020 - a "digital decade project" of the City of Vienna
The unified unified communication infrastructure

Speaker: Mr. Günther URBAN – Leiter BT1 Carrier / Mr. Ing. Rudolf HELLERSCHMID – Business Unit Manager MA14
EXHIBITION
Visit the exhibitors | live demos
KEYNOTE
EMERGANCY CALL LOWERAUSTRIA
powered by CISCO
The "call manager" decides about life and death.

Speaker: Christof Constantin Chwojka
Managing Director - Notruf Niederösterreich
https://notrufnoe.com/
Dinner and opening of the bar
Networking, socializing, doingbusiness ...